This video clearly evidences undercover law enforcement officers urging the crowds to advance up the stairs and scaffolding towards the Capitol on January 6th

BREAKING 2/20/23: McCarthy Gives Tucker Carlson access to trove of Jan. 6 riot Videos

New Video Proves Capitol Police on January 6 Started Firing on the Innocent Crowd Without Warning and Against the Law, Injuring Numerous Individuals (Shocking Video)

by Joseph Hanneman, The Epoch Times.com, February 20, 2023

Three undercover Metropolitan Police Department officers joined the march of protesters up the northwest side of the Capitol on Jan. 6, 2021—including one who climbed over a barricade and pushed others toward the Capitol, and another who walked behind Ashli Babbitt and predicted that "someone will get shot," according to newly disclosed court documents.
New court motions filed by Jan. 6 defendant William Pope of Topeka, Kansas, also show MPD bicycle officers stopping four armed men in plainclothes on Jan. 6. The men turned out to be federal agents. Video included with Pope's filings also shows uniformed MPD officers saying, "we were set up" to fail on Jan. 6.
Information in the court papers will rekindle the debate about the role that undercover officers and agents played in the riots of Jan. 6 and why the U.S. Department of Justice and federal judges have kept the evidence under seal and away from public view.
"This video clearly evidences undercover law enforcement officers urging the crowds to advance up the stairs and scaffolding towards the Capitol on January 6," Pope wrote in one motion. "The government may claim that incidents like this did not happen, but the facts show they did.
"Since the government cannot be trusted to disclose these facts," Pope wrote, "it becomes even more important that defense teams, including Pro Se defendants, be able to directly examine the evidence."

Speaker McCarthy Commits to Releasing all 14,000 hour of Jan 6th security video to the Public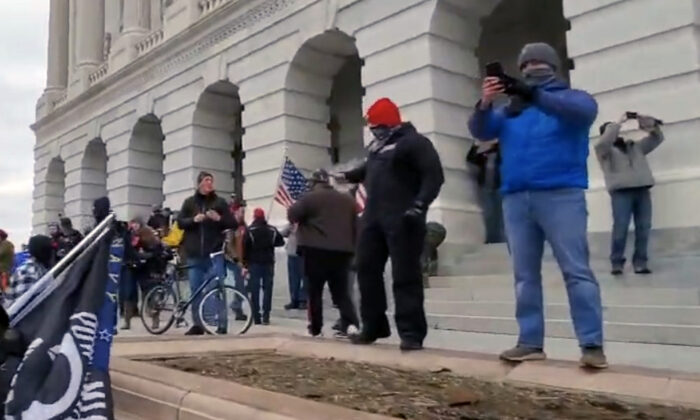 The three undercover MPD officers approached the northwest corner of the Capitol grounds at about 1:40 p.m. on Jan. 6, one of the motions states. Officer 1, who was filming their journey, joined the crowd chanting, "Drain the swamp!"
When a group of men ran past them toward the Capitol, Officer 2—wearing a Trump beanie—remarked, "Those guys are getting shot," the motion said.
At the base of the scaffold stairs, Officer 1 joined the crowd in a chant, "Whose house? Our house!"
"Officer 1 began yelling at people in front of him to 'Go, go, go!' As they climbed bicycle racks, Officer 1 yelled for the crowd to 'help him up, help him up!" followed by 'push him up, push him up!'" the motion reads of Pope describing how Officer 1 climbed over a barricade.

Click Here to Watch the Newest We the People Convention News & Opinion Podcast!
"Needing help to get up, Officer 1 asked a nearby man to give him a boost," the motion says. "The man gives Officer 1 a lift up, and Officer 1 says 'Thanks, bro.'"
Officer 1 pushed protesters in front of him to advance on the Capitol, shouting, "c'mon, c'mon, c'mon, let's go!," the motion said. People around him climbed over bike-rack-style barricades and scaffolding that had been set up for the presidential inauguration.
Right Behind Ashli Babbitt
At one point, Officers 2 and 3 were almost directly behind Trump supporter Ashli Babbitt on the exterior stairs, about an hour before Babbitt was gunned down at the entrance to the Speaker's Lobby, Pope said in a Twitter post on Feb. 18.
"Why hasn't the government informed the public that undercover MPD officers were chanting, 'Our house!' and repeatedly urging protesters to advance up the northwest steps of the Capitol on January 6?" Pope wrote on Twitter under his handle @FreeStateWill. "Officer 2 said someone would get shot and went up right behind Ashli Babbitt."
READ MORE
Doctor Who Tried to Save Ashli Babbitt on Jan. 6 Charged With 4 Misdemeanors for Time at the US Capitol

Video shot by the undercover officers is under court seal.
Pope argued in his motions that the DOJ is trying to prevent him from accessing the full Jan. 6 evidence databases. He is defending himself against seven criminal counts brought by federal prosecutors in February 2021. He asked U.S. District Judge Rudolph Contreras to compel the DOJ to give him full access to discovery materials.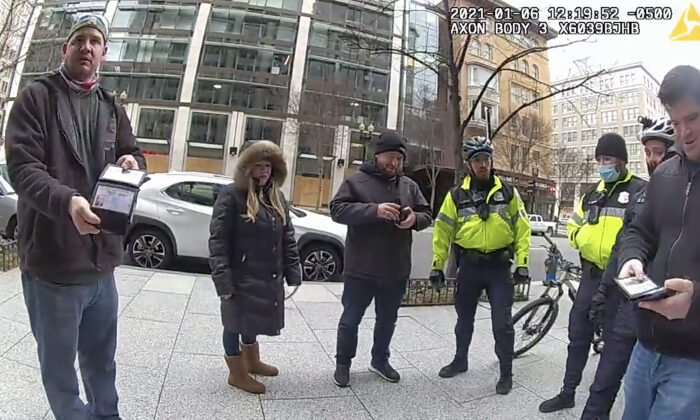 In a motion filed with the court on Feb. 17, Pope included a tranche of bodycam video with evidence not disclosed publicly before.
The bodycams of three MPD bicycle officers—Tyquan Brown, Daniel Styles, and Christopher Vanacore—shows them stopping a group of four men and a woman at 12:19 p.m., walking east during then-President Trump's speech at the Ellipse. "Is anyone armed?" Brown asked. "We all are," the men said, adding that they were law enforcement officials. The woman was not armed.
The four men showed the MPD officers their law-enforcement credentials and were allowed to go on their way. The IDs all appeared very similar, but the video is not of sufficient resolution to read what agency they are from. Brown chided one of the men, "You've got to do a little bit better at hiding it," pointing to his concealed handgun.

Story continues with many more details . . .