FBI Manipulating 'Domestic Terrorism' Data To Fit Biden Narrative

by Tyler Durden, ZeroHedge.com, March 4, 2023

Another FBI whistleblower has stepped forward to tell the House Select Subcommittee on the Weaponization of Federal Government that the agency had him boost domestic terrorism figures by dividing cases into multiple subdivisions.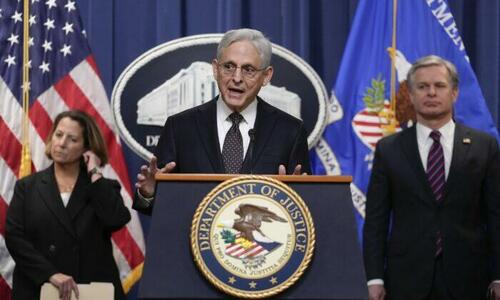 FBI Special Agent Garret O'Boyle from the Kansas City field office told Congressional investigators that the agency had him divide a single domestic terrorism case into "four different cases," so that the FBI could go to Congress and say "look at all the domestic terrorism we've investigated," Fox News reports.
"Where, really, I was working on one case," O'Boyle continued. "But, the FBI can then say, well, he actually had four, and so we need you to give us more money because look at how big of a threat all this domestic terrorism is."
He also said that the FBI created a specific threat tag for pro-lifers "THREATSCOTUS2022" amid the leak of the Supreme Court's opinion in Dobbs v. Jackson Women's Health Center - as opposed to the raging pro-abortionists nationwide.
According to O'Boyle, the threat tag was shifted and "began focusing on pro-life adherence."
"When this threat tag came out, it was like, why are you focusing on pro-life people?" he said in an interview reviewed by Fox News. "It's pro-choice people who are the ones protesting or otherwise threatening violence in front of Supreme Court justices' houses."

Click Here to Signup to receive We the People Convention emails and/or text messages!

O'Boyle testified that following the Supreme Court's​​​​​​ decision to return abortion to the states in​ Dobbs v. Jackson Women's Health Organization, the FBI prioritized possible threats against the justices from pro-lifers, focusing on "pro-life adherence."
"Why are you focusing on pro-life people?" O'Boyle recalled wondering. "It's prochoice people who are the ones protesting or otherwise threatening violence in front of Supreme Court Justices' houses."
The FBI wanted agents to look into pregnancy centers, he recalled.
"[W]hy would we go and talk to these people about threats when, if somebody is going to be getting threatened, it would be them," he reasoned, "because people thought that abortion was suddenly outlawed, which that wasn't the case either. It was just remanded back to the states."
He was asked to talk to his pro-life informant "about the threats to the Supreme Court," he testified. "I was like, why would this person know about those threats? He's pro-life. Like, he's not the one going and threatening the Supreme Court Justices."

FBI politicized J6 cases, targeted pro-lifers, whistleblowers tell House panel on weaponization
by Natalia Mittelstadt, Just the News.com, March 4, 2023
The FBI has politicized cases regarding Jan. 6 defendants and pro-lifers while retaliating against internal whistleblowers, some of those whistleblowers testified last month to the House Select Subcommittee on the Weaponization of the Federal Government, according to portions of transcripts reviewed by Just the News.
Retired FBI supervisory intelligence analyst George Hill, who retired last year from the bureau's Boston field office, testified that the Washington Field Office pressured other field offices to investigate citizens for activities protected by the First Amendment.
Hill's own Boston Field Office, he said, pushed back against pressure from Washington to open cases on, first, seven individuals who came up in a sweep of bank records served up by the Bank of America, and then a larger group of 140 Americans guilty of nothing more than riding buses to D.C. to attend former President Trump's Stop the Steal rally on Jan. 6, 2021.
Washington, Hill believes, applied similar pressure on the Philadelphia Field Office. On a nationwide phone call of all 56 FBI field offices, he testified, then-chief of the Domestic Terrorism Operations Center Section Steve Jensen asked the Philadelphia Field Office about the status of a lead on three individuals that had been sent by the Washington Field Office.
The Philadelphia office said the individuals had posted on social media about being pro-Second Amendment and anti-abortion, but that it didn't mean they were "insurrectionists seeking to overturn our democracy," Hill recalled.
Jensen, according to HIll's testimony, responded, "I don't give a blank, they're all bleeping terrorists, and we're going to round them up."
Former FBI special agent Steve Friend, a former SWAT team member, testified to the panel that after raising concerns about using a SWAT team to arrest a subject of the Jan. 6 investigation, he was ordered off the job for a day.

Click to Watch the Newest We the People Convention News & Opinion Podcast!
Friend explained that the Jan. 6 subject was cooperating with the FBI and willing to surrender voluntarily, so he was concerned that the bureau wasn't using the least intrusive methods possible to arrest them.
After speaking with his direct supervisor, he recounted, two assistant special agents in charge of Friend's office met with him and "pushed back on" his concerns, saying that he had a right to raise them, but he also "had to follow through on the orders that I was given to do."

Friend told the higher-ups he didn't want to participate in executing the warrant, and that if he was assigned to do so he "would have to consider not going" but "would call ahead if that was going to be the case."
He was not allowed to participate in any operations for executing warrants on Jan. 6 subjects after that, Friend testified. In an email from one of the assistant special agents in charge, he claimed, he was "ordered to not come to work the following day" and told that he would "be considered absent without leave."